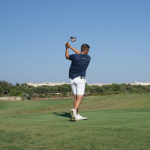 Summary
I am a golf professional looking for sponsors for 2022. In 2021, I participated in races of the ALPS-TOUR and ITALIAN-PRO TOUR circuit
Description
Golf is a sport with great communicative potential, both for the level of national and international television visibility, and for the undoubted possibility of developing prestigious relations. Thanks to the resounding international successes of Italian golfers, golfing has gained great popularity and public success also in Italy in recent years. For the context of realization and the extremely selected target, the sport is particularly suitable for welcoming sponsorships and enhancing professionals and companies that:
want to improve brand awareness
want to use the golf course to develop public relations
want to present themselves to an audience that does not only belong to the world of golf but is carefully selected.
Our preferred sponsor
Any company and / or private person that wants to present itself to an audience that does not belong exclusively to the world of golf, but that is carefully selected
Sponsorship Usage
Clothing
Equipment
Social Media
Fancybox.bind("[data-fancybox]", { // Your custom options });