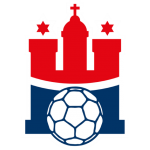 Summary
We are the Handball Sport Verein Hamburg and have been back in the Liqui Moly Handball Bundesliga since the 21/22 season. #AfterEbbgetFlood.
Description
The path of the Handball Sport Verein Hamburg has unmistakably led upwards since the restart in 2016.
However, given the Corona situation, the last 2020/2021 season was not a season like any other. The team was challenged more than ever. However, the course of the season showed the possibilities and ambitions of the young club. The performances of the team around coach Torsten Jansen were constant and inspired the Hamburg fans week after week. The season ended as the champions of the 2nd national handball league and promotion back to the LIQUI MOLY national handball league was perfect!
FROM HAMBURG. FOR HAMBURG. WITH HAMBURG.
Reach / Links
Key figures for sponsors
YOUR PARTNERSHIP WITH HSVH:
Your individual package for a partnership with the Handball Sport Verein Hamburg can essentially consist of five pillars. These can vary depending on the wishes of the partners and sponsors.
logo presence
Expansion of the B2B network
Hospitality Services
Activation - in the hall & digitally
promotion of young talent
KEY FIGURES:
9,964 viewers record
3,526 viewer average
17,700 Facebook fans
19,200 Instagram followers
7,000 TikTok followers
Fancybox.bind("[data-fancybox]", { // Your custom options });