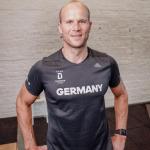 Summary
Canoe racing: Olympic champion, world and European champion, winner of the European Games, overall World Cup - the dream of Olympic gold has come true!
Description
"Anyone who seriously sets a goal will achieve it."
This has always been my motto under which I have pursued my sport. Certainly, I have had a rather unusual competitive sports career - but I think this gives me the special perspective on all that has happened. I came to canoeing in Siegburg (near Cologne) in 1994 and started with non-Olympic canoe whitewater racing. Immediately infected by the sport, it took off and developed into my passion. In 2000 I became junior world champion for the first time, followed by 4 hard years of training to catch up with the national team in the competitive class and then to become world champion in 2006. In my opinion, these years in my early 20s had a great impact on me.
The dream to see the Olympic Games one day matured relatively quickly. In the spring of 2007 I changed to a racing boat and immediately qualified for the national canoe racing team and one year later, as a nobody, for the 2008 Olympic Games in Beijing. With a 5th place in the K1 over the 1000m I was completely satisfied and had tasted blood. A year later, I became world champion in the K1 1000m for the first time and three more titles until London were incredible. In London, at my second Games, I felt I was in top form, but unfortunately a bit nervous. But I was still satisfied with a bronze medal in K1. For the next 4 years, I concentrated fully on Rio at my training base in Essen. Unfortunately, the final in K1 2016 in Rio de Janeiro was unfair due to quite a few leaves on the track and my competition was over after 100m. Pretty disappointed and frustrated to have invested 4 years for nothing, but I quickly picked myself up for the K4 two days later. The whole thing ended in an incredible competition and the OLYMPIA WIN. The highlight of my sporting career so far.
Besides my sporting career I spent my time at the UNI Cologne and finished my biology studies with a diploma at the beginning of 2010. This was followed by a one-year stint as a research assistant at the Sports University of Cologne. Now I am in the final stages of my second degree, which I hope to finish soon with a diploma in business administration.
Now I'm moving on. In terms of sports, something else is to follow; I'm still highly motivated and physically fit. In the long term, I am also certainly looking for a professional mainstay and have many facets to offer for this. I am open to any partnerships that accompany me on my way. Both sides will benefit! So talk to u
Our preferred sponsor
I am open for all cooperations. Sympathetic companies that can identify with me as an athlete and my person, as well as I with you, are very welcome. Long-term as well as short-term cooperations have their appeal and can be individually adapted.
Reach / Links
Greatest successes
SUCCESSES CANOE RACING
2019
World Champion K2 100m Szeged/ HUN
Vice World Champion K1 5000m Szeged/ HUN
European Games K2 1.Pl /1000m Minsk/ BLR
European Games K1 3.Pl /500m Minsk/ BLR
2018
World Champion K2 1000m Montemor-o-Velho/ POR
European Champion K1 5000m Belgrade/ SRB
2017
European Champion K2 1000m Plovdiv/ BUL
European Champion K1 5000m Belgrade/ SRB
2016
OLYMPIASIEGER K4 1000m Rio de Janeiro/ BRA
European Champion K2 1000m Moscow/ RUS
2015
European Games K1 1.Pl /1000m Baku/ AZE
European Games K1 1.Pl /5000m Baku/ AZE
European Champion K1 1000m Racice/ CZE
2014
European Champion K1 5000m Montemor-o-Velho/ POR
Overall World Cup Winner
2013
World Champion K1 1000m Duisburg/ GER
European Champion K1 5000m Montemor-o-Velho/ POR
Overall World Cup Winner
2012
Olympic Games K1 bronze medal /1000m London/ GBR
Olympic Games K4 4th place /1000m London/ GBR
European Champion K1 1000m Zagreb/ CR
2011
World Champion K4 1000m Szeged/ HUN (WR 2:47.734)
World Champion K1 5000m Szeged/ HUN
European Champion K1 1000m Belgrade/ SRB (WR 3:22.485)
2010
World Champion K1 1000m Poznan/ POL
European Champion K1 1000m Trasona/ ESP
Overall World Cup Winner
2009
World Champion K1 1000m Halifax/ CAN
European Champion K1 1000m Brandenburg/ GER

SUCCESSES WHITE WATER RACING
2007
European Champion K1 Men Whitewater Classic Bihac/ BIH
2006
World Champion K1 Men Whitewater Sprint Karlsbad/ CZE
Fancybox.bind("[data-fancybox]", { // Your custom options });