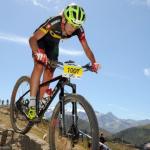 Summary
Cross country rider from Poland; graduated physiotherapy
Description
I am mountainbiker from Poland. I ride XCO races (this is olympic format), but also road and cyclo-cross.
I achieved two bronze medals on World Championships (2010, 2012), silver on European Championships (2012) and I represented Poland during Olympic Games in London 2012. I was four times on World Cup podium and I achieved more than twenty medals in National Championships in different cycling races.
In 2015 I graduated physiotherapy. I can speak English, German and Polish and now I am learning Italian.
My cycling goals are very clear - I want to fight on Olympic Games in Tokyo in 2021 and Paris 2024. I work with media very easily and I like to build up new ideas which fit best sponsor's demandings.
In my career I was working with many different companies from different countries (for example USA, Austria, Poland, Czech, Taiwan). I have experience in sponsorship cooperation, I am opened for company ideas and I give my best to make our journey interesting and full of success.
Our preferred sponsor
I am open to different companies. I can make interesting campaigns with these companies - on social media (Facebook, Instagram, Twitter, Youtube).
If the company is from Poland, Switzerland or near these two countries, we can arrange a photo shooting and make some actions together in the real time (not only via internet).
In addition, I like very much to hold a meeting with children or young people. In the past I often did the special action in Poland with the motto: "Laughter for Medal".
Reach / Links
Greatest successes
Olympian from London 2012
two times bronze medal on World Championships (2010, 2012)
silver medal on European Championships (2012)
four times on World Cup podium (2nd in 2011, 3rd in 2009, 2011, 2012)
22 medals from Polish Championships in mountain bike, road and cyclo cross (9x gold, 9x silver, 4x bronze)
Key figures for sponsors
over 4.000 fans on Facebook
over 1.000 followers on Instagram
Twitter and Youtube accounts
my followers: 60% men and 40% women
average age of my followers: between 18 and 34 years
logo placement on my personal website
MTB World Cup serie (6-7 races per year) to see in Red Bull TV
every year European and World Championships
Fancybox.bind("[data-fancybox]", { // Your custom options });