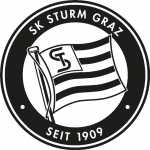 Summary
SK Sturm's identity is shaped by tradition, great passion, the common pursuit of success and constant further development.
Description
SK Sturm draws strength from its tradition and its regional roots. It is a club that sees itself as a football ambassador for Graz, Styria, and for all of Austria when it comes to international appearances. Sturm is a unique club name in German-speaking professional football. The name Sturm stands for the willingness to fight and to work passionately. Players of all generations, our teams, and the Sturm fans have shown that again and again. The club was an early sponsor of women's sports and always attached great importance to the education of young people. The continued existence of our association is more important to us than short-term success.
With attractive advertising and sponsoring concepts in an ideal configuration for every advertising budget, you too can put your business in the lead. Present yourself and your company in combination with a regional figurehead and use the target group of the SK Sturm community. Benefit from target-specific options that are guaranteed hits!