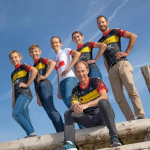 Summary
UCI mountain bike team 4x World Champion (junior women, U23 women) 3x European Champion (junior women) 13x World Cup podium (XCO, XCE)
Description
We are professional mountain bike team from Switzerland, registered in UCI (Union Cycliste International). Our team was first active in sport in 2005 and from 2010 we are the UCI team.
Our riders achieved many impressive results.
Linda Indergand, Alessandra Keller, Ramona Forchini and Jacqueline Schneebeli were all World Champions in junior or U23 category.
Linda Indergand, Alessandra Keller and Jacqueline Schneebeli were also European Champions.
Our riders achieved together:
-6 medals in World Championships (4x gold, 2x bronze)
-4 medals in European Championships (3x gold, 1x bronze)
-9 podiums in World Cup (2x gold, 6x silver, 1x bronze)
-3 medals in XCE World Championships (1x silver, 2x bronze)
-2 medals in XCE European Championships (1x silver, 1x bronze)
-4 podiums in XCE World Cup (2x gold, 1x silver, 1x bronze)
We are an interational team. In this year our riders come from Switzerland and Poland.
Polish rider - Paula Gorycka - was also successfull rider in junior and U23 category. Riding for other teams she achieved two bronze medals in World Championships, one silver in European Championships, four podiums in World Cup and she competed in Olympic Games in London 2012.
Swiss riders - Jade Birchler, Jeremias Marti, Vivien and Gianmarco Greuter will compete in races in Switzerland.
Our idea is to help riders to achieve their best. We make step by step our job and achieve our goals.
Our coach and team manager is Andreas Kurmann. He is Swiss Olympic trainer and he knows how to lead the riders to help them to bring their best. His experience is supported by his time as a player in different sports (mountain bike, cross country ski, running).
Our preferred sponsor
Our ideal sponsor would be opened for a win-win business. We have the knowledge about mountain bike cycling and experience in winning the World Championships, European Championships and World Cups. Our ideal sponsor has the trust in us and wants to cooperate with us on a longer way. The project name for our ideal sponsor and us would be MISSION OLYMPICS 2028.
Reach / Links
Greatest successes
World Champion titles won by four different riders:
-Linda Indergand in 2011
-Alessandra Keller, in 2013
-Ramona Forchini in 2015
-Jacqueline Schneebeli in 2019
European Champion titles won by three different riders:
-Linda Indergand in 2010
-Alessandra Keller in 2014
-Jacqueline Schneebeli in 2019
Key figures for sponsors
We are active in social media as team and our riders as professional cyclists (Facebook, Instagram, Twitter, Youtube)
We promote such values as fair play, hard work, patience, regularity, friendships, happiness
World Cup serie of races is to see in Red Bull TV and is watched by thousands of people all over the world
We start in races in many countries - Switzerland, Germany, France, Italy, USA, Canada, Czech, Poland, Greece, Turkey, Spain, UK, Austria and much more
By sponsoring our team, you can reach a clientele with an affinity for sport and active & healthy lifestyle
Sponsors
Fancybox.bind("[data-fancybox]", { // Your custom options });